Automated Residential Collection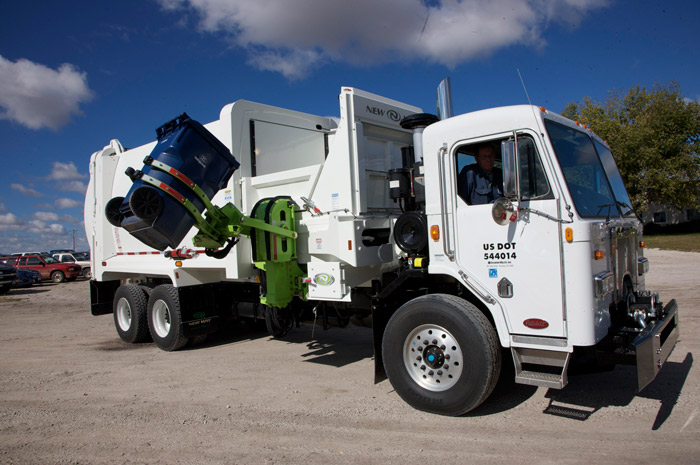 Simply put, Automated Trash Collection allows for one person to safely and efficiently collect curbside refuse using a truck with a mechanical arm that automatically lifts and empties the trash container directly from the curb into the truck, and then returns the trash container to its original position on the curb.
What are the advantages of automated residential collection?
Cost: Greater efficiency lowers collection costs.
Ease of Use: Users can easily maneuver their assigned carts.
Sanitation: Carts prevent animal scavenging.
Aesthetics: Cleaner curbside appearance.
Noise: Automated trucks emit less noise.
Safety: Automated collection minimizes occupational hazards.
Items to Place in the Cart:
Place all trash in plastic bags if possible. Secure the bags to help prevent spillage and keep the container clean. Other materials should fit easily into the cart to ensure ease of unloading. The lid should be able to close.
Prohibited Items Include:
Hot ashes or coals
Hazardous waste (paints, oils, poisons, corrosive, batteries)
Concrete, rocks, large pieces of metal, tile, dirt
How to Fill and Place Your Cart:
Put your trash in bags to prevent spills.
Do not overfill your container - make sure the lid can be shut with ease.
Place your cart at the curb, near your driveway, with wheels facing in, by 6:00 AM on your scheduled pick-up day.
Place your cart 5 feet away from all obstructions (cars, poles, recyclables, additional containers, etc.).
Place recycling bin 5 feet away from trash cart.
Excess Trash:
Residents may make arrangements with Carroll Refuse Service for pick-up of trash that will not fit into the automatic cart. Additional charges will apply if service requires additional staff, time, or vehicles.
Cart Damage or Replacement:
In the case of damaged, lost, or stolen carts, a replacement cart can be arranged.
Additional Carts:
Residents may request an additional trash cart by calling (712) 792-0101. Your cart will be delivered on your next service day.
Cart sizes:
96 gallon carts are the standard size.
35 gallon carts are available for single residences and the elderly. If you need this size, please call (712) 792-0101.
Disability Assistance:
Carroll Refuse Service will provide assistance with carts for disabled and elderly residents free of charge.